NOT ONLY DO WE HAVE GREAT MEALS, WE HAVE GREAT REWARDS!
FREE FOOD
RESIDUAL INCOME
Imagine eating great meals for free AND earning monthly residual income as well. Who doesn't like the sound of that?
We're looking for highly motivated individuals to help our brand awareness and increase sales.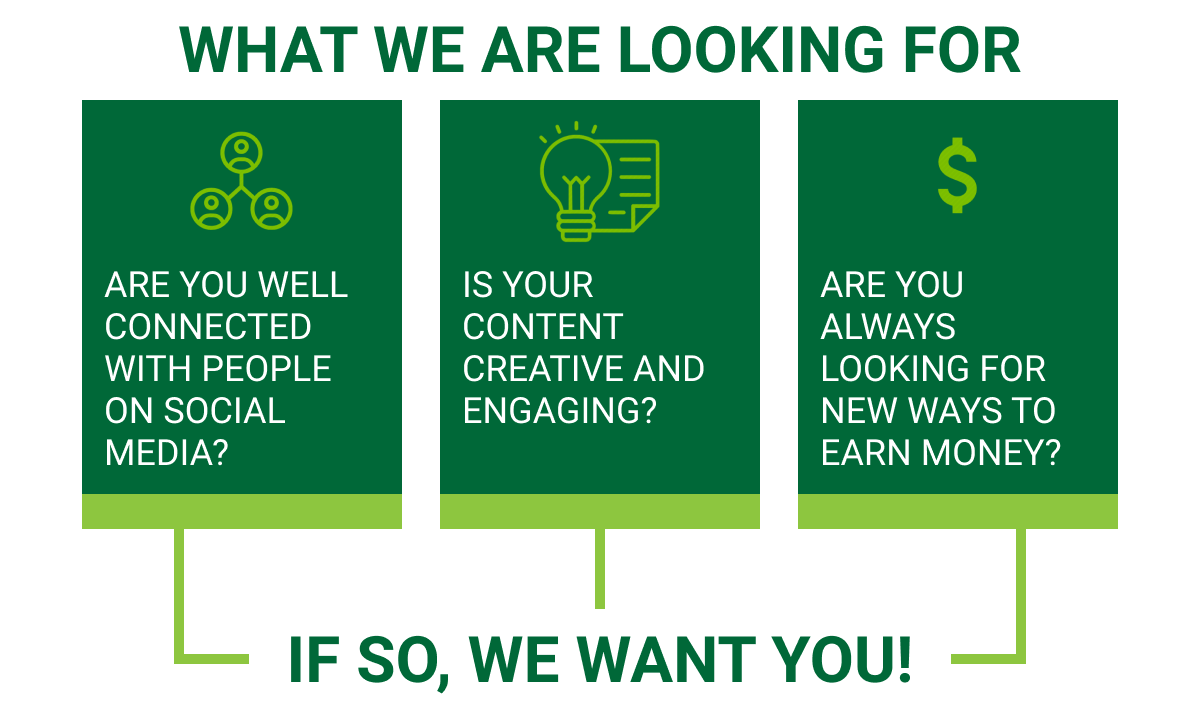 BECOME AN AFFILIATE
Share your link on Social Media to earn free meals and income
When someone purchases a meal plan through your link, you will earn a free meal
Once you influence 12 meal plan orders, 12 free meals will be credited to your account that can be shipped free to you at any time
Continue to share your link and keep earning free meals
Once your link influences 24 orders per month, you will be elevated to our Diamond Affiliate program
Receive $7 on each order after the first 24 orders per month. Not only are you continually earning free meals, but you are now earning income
If the plans placed are recurring, they will carry over each month and count towards your monthly influenced orders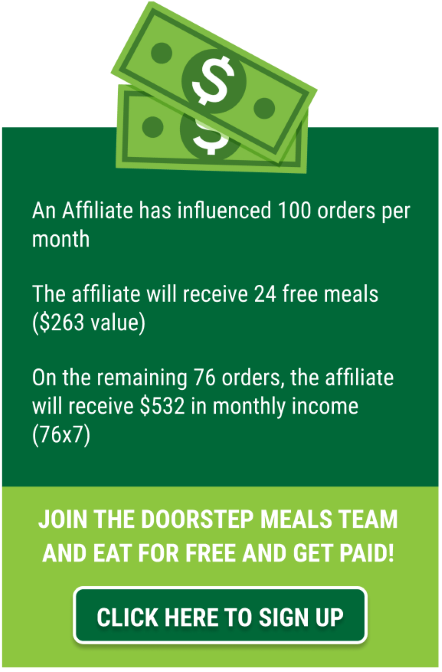 FAQ's
How do I enroll?
If you are purchasing meals, you have the option to create an account in check out. This account is unique to you and will continue even as you hit the Diamond Affiliate level. If you are just joining us and only want to be an affiliate, create an account and you will receive your shareable link. You are able to track your status through your account dashboard. Once you achieve your Diamond Affiliate Status, a customer service executive will contact you directly to answer any questions for you.
What are some suggestions to earn more with Doorstep Meals?
As an affiliate partner, we will provide you with promotional material, your own link and promotional code that can be shared, and the ability to give first time customers a free meal.
How much can I make per order?
The best thing about our program is the ability to build an unlimited income stream. After your initial 24 orders per month, each order placed by one of your followers using your promo code will earn you $7 per order within that month. Each month resets at the beginning of the month and runs as a calendar month.
How do I get paid?
We make all deposits on the 15th (or next available business day) of the following month through Paypal.
Do you offer recurring revenue?
Yes, if the customer signs up for a recurring order plan, each of their bi-weekly orders will count towards your initial 24 each month and beyond for recurring revenue.
Is there a maximum I can earn?
There is no cap to your earning potential in the Doorstep Meals Affiliate Program.
Who can I contact for more information?
We are happy to answer any further questions you may have and we appreciate your interest. Please contact [email protected].